In 1975
, Mike Rizzo drove
this car
at Weedsport and Rolling Wheels with the URC sprinters, it was the first time a supermodified had competed in that division. Mike tells me that this is what inspired Glen Donnelly to eventually try this during super Dirt Week. The first Supers vs Sprints event occurred the following year during the Schaefer DIRT Weekend.
---
9/30/1978
T
he 1978 Supernationals, run on the same weekend as the Schaefer 200, was sanctioned by a fledgling group that called themselves The World of Outlaws. This particular event was an ill-fated experiment to run the supermodifieds with the sprinters on the big mile without wings as many crashed heavily. This configuration gave the supers an edge as they raced wingless at Oswego Speedway as a rule anyway, and the sprinters were thrown into uncharted waters, as they usually ran with wings.
T
he supers ruled on this day with Bobby Stelter qualifying quickest (33.713) in the Tobin #21 super and Bentley Warren, in the Snyder 77 taking overall combined honors with a win in the first 50km and a 4th in the second after starting far back. Stelter got second overall and the next super in the finishing order was Steve Gioia who was credited with 16th overall.
E
d Thompson, Ronnie Wallace, Gary Albritain, Eddie Bellinger, Brad Thrall and Don Mclaren all also competed in supers. Chuck Ciprich raced a sprinter in the event.
Complete 1978 Results:
First segment
Second segment
$3500 to win Twin 32s
---
10/6/1979
T
he Supers ran with the Sprints in '79 also but this time with wings, the Sprints had the edge this time. Lynn Paxton was the top qualifier @ 31.25.
Bentley Warren brought the Snyder 77 home in 6th and other Supermodifieds in order were, Ed Thompson 10th, Bob Stelter 13th, Steve Gioia 14th, Gary Allbritain 21st, Chuck Ciprich (
Buckner super
) 24th, Jim Shampine 26th and Bob Garvey 39th. This was a NonSanctioned event that paid $11,000 to win.
1979 Super Nationals Results
Below are some links to larger full page images that will open in a new window...
credits
78 race results
79 entry list
79 Oswego qualifier report
- only win for the Shampine rear engine car
Bentley Warren article
Chuck Ciprich article
10/11/1980
Keith Kauffman was fast qualifier (29.62) for this WoO event that paid $13,332 to win. Jim Shampine grabbed third with
his sprinter
. This was the year he did not run at Oswego until his dominating Classic run at season's end. Ed Thompson and Bobby Stelter finished 11th and 12th with supers.
1980 Super Nationals Results
---
10/10/1981
Steve Kinser turned a 29.85 lap to grab the pole. Shampine was credited with 35th and no supers qualified for the event.
1981 Super Nationals Results
(WoO, $15,000 to win)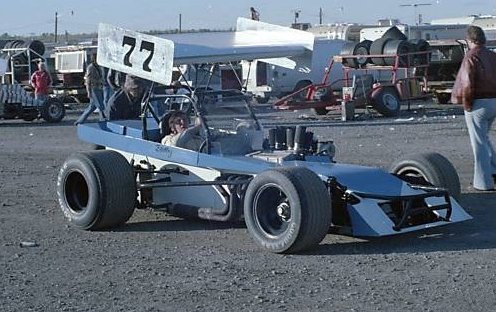 Bentley in 1981 at the Fair in the former Graves 38, He did not make the field. The divergence in technology between the two groups was now becoming apparent.
---
1982
Eddie Thompson (super?) got 9th, no other supers. Swindell qualified @ 27.82
1982 Super Nationals Results
WoO, $19,000 to win
---
1983
Thompson and Denny Wheeler made the show. Swindell qualified @ 27.39
1983 Super Nationals Results
WoO, $17,375 to win
---
1984
Saunier, Warren and Allbritain made the show. Gary Morton, Todd Gibson and Joe Gosek failed to qualify via the B feature. Fast qualifier, Rocky Hodges - 26.77
1984 Super Nationals Results
WoO, $22,000 to win
---
1985
Bellinger and Allbritain made the show.
1985 Super Nationals Results
NonSanctioned, $19,550 to win
---
1986
Winged Supermodifieds only event... A seperate race was added for the supers when the big block engines of the supers became "illegal" under new World of Outlaw rules which limited sprint engine size to 410 cubic inches, yet promoter Glen Donnelly felt he needed the supers to help draw an open wheel crowd to Super Dirt Week. Fast qualifier, Joe Gosek 30.62
1986 ISMA DIRT Week Results
$4500 to win
---
1987
Winged Supermodifieds only event
1987 ISMA DIRT Week Results
$4000 to win
---
1988
Winged Supermodifieds only event
1988 ISMA DIRT Week Results
$8500 to win
---
more super vs sprint notes...
• A
supers vs sprints event
was held in 1967 at Trenton. The partial
results
I found stated "Trenton International Speedway, 25 laps, Trenton, NJ, Date of Race: 10/21/1967"... but the program is dated 10/22/1967 and advertises 100 laps??
The
June #65 rear engine super
is said to have set fast time in this event, Neil Tooley may have been at the wheel...
---
• While on the mixing of divisions subject, didn't Open Wheel magazine once suggest that Jim Shampine should give Indy a shot with his new offset back in '76 or '77...